Do you love colour? 
Have fun creating your own artworks. This workshop is for anyone who loves colour but is convinced they have no talent or skill. Using a range of art mediums you will learn how to take your favourite colours and let them help you create an abstracted artwork that reflects your unique personality.
THE FOCUS OF THIS WORKSHOP WILL BE BASED ON YOUR HOLIDAY LOCATIONS.
Bring along a photo of your favourite location if you like to inspire you!
No skills required, just enthusiasm and a love for colour.
WHEN: SUNDAY 8 October 2017
TIME: 9am – 1pm
WHERE: ArtSHINE Space & Gallery, Chippendale Creative Precinct
What you get:
Fully guided creativity art class
All equipment provided
Easy and fun exercises to cultivate your own colour palette
Easy ways to create contemporary designs and artwork
Your own watercolour artwork
Your own canvas artwork
Morning tea
Inspiring ideas to continue developing your own style
RECEIVE A FREE
POCKET COLOUR WHEEL
*$145pp
*Includes all equipment and morning tea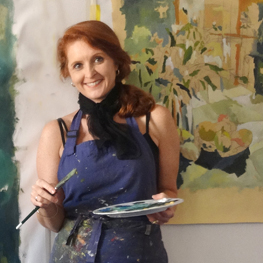 YOUR FACILITATOR
Kristine Ballard is a practicing artist and arts educator. She exhibits and teaches in Australia and internationally.
The originator of the FragmatismTM style, she will help you develop and nurture your very own abstraction style.